Product Description:
Introducing Niceclothlife QuackTales Duck Print Fabric, where creativity meets whimsy. This delightful fabric showcases a charming print of adorable ducks in various playful poses, guaranteed to add a touch of joy and cheer to your crafting projects. Crafted with care and quality in mind, Niceclothlife QuackTales Duck Print Fabric is perfect for creating enchanting clothing, home decor, and accessories that will captivate both children and adults alike.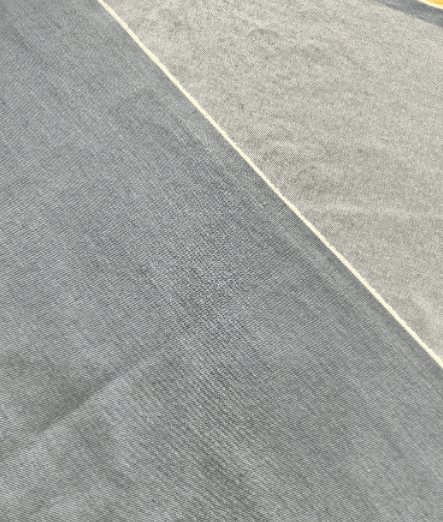 Key Features:
Premium Cotton Blend: Niceclothlife QuackTales Duck Print Fabric is thoughtfully crafted from a high-quality cotton blend, offering the softness and breathability of cotton with the added durability of synthetic fibers. This blend ensures a comfortable feel while maintaining its shape and color vibrancy.
Whimsical Duck Motifs: The fabric features an endearing print of playful ducks with intricate detailing, designed to inspire imagination and spark creativity in your crafting projects. The vibrant colors and charming motifs will leave a lasting impression on your creations.
Versatile Medium Weight: With a medium weight, Niceclothlife QuackTales Duck Print Fabric strikes the perfect balance between durability and ease of handling. It is versatile enough for sewing, quilting, and various craft projects.
Width and Length Options: Choose from various width and length options to suit your specific needs. Whether you're working on small accessories or larger home decor projects, Niceclothlife has you covered.
Eco-Friendly Printing: The duck print is applied using eco-friendly, non-toxic dyes that are safe for all ages. This ensures a sustainable and responsible approach to crafting.
Common Uses of Niceclothlife QuackTales Duck Print Fabric:
Children's Apparel: Sew charming dresses, shirts, rompers, and pajamas for kids, infusing their wardrobe with delightful duck-themed outfits.
Quilting and Patchwork: Use the fabric to create eye-catching quilt blocks, appliqué, or patchwork elements for cozy quilts and bedding.
Home Decor: Add a touch of whimsy to your living spaces with throw pillows, curtains, and accent pieces crafted from Niceclothlife QuackTales Duck Print Fabric.
Accessories and Gifts: Create enchanting tote bags, headbands, bowties, and personalized gifts for friends and family, making every moment a little more magical.
DIY Projects: Incorporate this charming duck fabric into various DIY projects, including scrapbooking, journaling, and handmade greeting cards.
Care Instructions:
Machine wash in cold water on a gentle cycle with like colors. Tumble dry on low heat or lay flat to dry. Iron on low setting if needed. Avoid using bleach or harsh detergents to maintain the vibrant colors and integrity of the print.
Unlock your creativity and embark on a crafting adventure with Niceclothlife QuackTales Duck Print Fabric. Let the playful ducks inspire your imagination and bring joy to your projects. With this enchanting fabric, you can create handmade treasures that will tell heartwarming tales for years to come.