Overview:
Duck fabric, also known as canvas or duck cloth, is a durable and versatile material commonly used in various applications, including home decor, crafts, upholstery, and outdoor projects. When sold by the yard, duck fabric offers the flexibility to purchase the exact amount needed for specific projects, making it a popular choice for both DIY enthusiasts and professionals.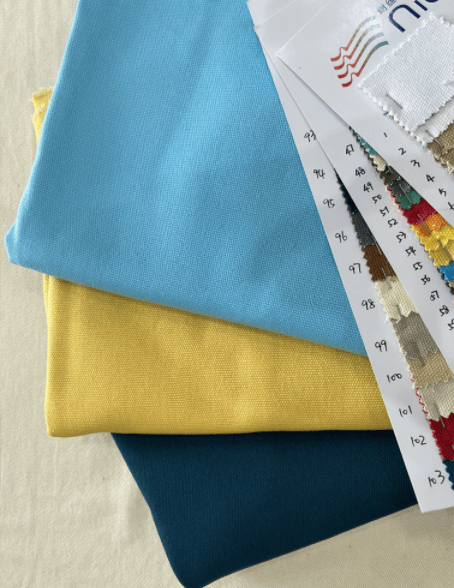 7 Key Features for Duck Fabric by the Yard:
Heavy-Duty and Sturdy: Duck fabric is woven with strong, durable fibers, resulting in a dense and heavyweight fabric that can withstand frequent use and wear. It is known for its exceptional strength and resistance to tearing and fraying.
Cotton or Polyester Blend: Duck fabric is available in both cotton and polyester blends. Cotton duck fabric offers a natural look and feel, while polyester duck fabric provides added water and mildew resistance, making it suitable for outdoor applications.
Multiple Weights: Duck fabric comes in various weights, commonly categorized by "numbered ducks." The most common are #8 (lightweight) and #10 (medium-weight), with higher numbers indicating heavier and more durable fabric.
Versatility: Duck fabric's versatility makes it suitable for a wide range of projects, such as upholstery, draperies, tablecloths, bags, crafts, floor coverings, outdoor furniture, and tents.
Natural and Neutral Colors: Duck fabric is typically available in natural, neutral colors, such as beige, tan, and olive green. These colors complement various interior and outdoor settings and can be easily dyed or painted for customization.
Breathable and Absorbent: Cotton duck fabric's natural fibers allow for breathability and absorbency, making it suitable for certain clothing items and applications where moisture management is essential.
Easy to Work With: Duck fabric is relatively easy to sew, making it suitable for various sewing projects, including apparel, bags, and home decor.
Common Uses for Duck Fabric by the Yard:
Home Decor: Create draperies, curtains, slipcovers, cushion covers, and tablecloths for a natural and rustic touch to interior spaces.
Upholstery: Use duck fabric to reupholster furniture, providing a sturdy and long-lasting finish.
Bags and Accessories: Make tote bags, backpacks, aprons, and other accessories that require durability and strength.
Outdoor Projects: Design outdoor furniture covers, cushions, hammocks, and tents, as duck fabric can withstand exposure to the elements.
Craft Projects: Utilize duck fabric for various craft projects, including wall hangings, floor mats, and banners.
Conclusion:
Duck fabric by the yard is a reliable and versatile material that caters to a wide range of projects, from interior decor to outdoor applications. Its durability, strength, and easy workability make it a favorite among DIY enthusiasts and professionals alike. Whether used for home decor, upholstery, bags, or craft projects, duck fabric offers a natural, rustic, and resilient solution for various creative endeavors.